Gluten Free Blender Pancakes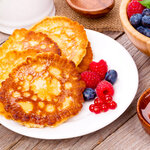 Gluten Free Blender Pancakes recipe
U.S.
Directions
Place milk, eggs and oil in blender.
Blend at low speed.
Add sugar and dry ingredients.
Pour 6 inch rounds into greased skillet or non-stick pan.
Flip when bubbles appear through out and edge of cake looks dull.
Add more milk for thinner pancakes or more flour for thicker ones.