Chicken Enchildas with Cheese
This is a fantastic rich chicken enchilada recipe featuring chicken, cheese and baked in a cream sauce.
Directions
Preheat you oven to 350℉ (180℃).
Seed and chop the jalapeno pepper. Sauté onion in oil until translucent. Stir in garlic, tomato sauce, salt, sugar, chicken and peppers. Cover and simmer 5 minutes.
In a large saucepan, heat cream and dissolve bouillion cubes in it. Set aside.
In a small skillet, heat about ⅓ cup of oil and dip each tortilla in hot boil, turning once, for a few second to soften. Drain on paper towels.
Assemble Enchiladas:
Spread some wax paper down on your work surface to help keep things from getting too messy.
Dip a tortilla in the cream mixture. Place on a flat surface and put two to three tablespoons chicken mixture in the center and roll up.
Place rolled tortilla, seam-side down in 13x9 inch baking dish . Continue with remaining tortillas.
Pour all remaining cream mixture over enchiladas and cover with grated cheese.
Bake for 25 to 30 minutes, until cheese is melted and browned.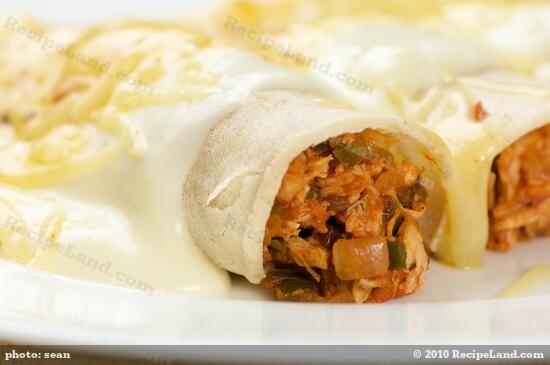 Health tip:
if you are worried about all that heavy cream you could prepare a simple bechamel sauce (flour, butter that thickens milk) to replace the heavy cream. This significantly reduces the calories from fat.
Nutrition Facts
Serving Size
303g
(10.7 oz)
Amount per Serving
Calories
734
82% of calories from fat
Trans Fat 0g
Sugars g
Vitamin A 42%
•
Vitamin C 22%