Bulgogi-Spiced Tofu Wraps with Kimchi Slaw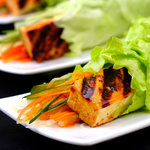 This vegetarian wrap recipe is big on taste with it's beautiful blend of spices that perfectly complement the tofu and vegetables. It's really simple to make and so satisfying that it will keep your hunger wrapped up.
Metric
Ingredients
For the Wraps:
600g/21oz firm tofu
100g/3.5oz iceberg lettuce for wrapping
For the Marinade:
50g/2oz chopped onion & leeks
50ml/1.75fl oz soy sauce (gluten free if required)
25ml/1fl oz honey
30ml/1fl oz sesame oil
1/2 tsp black pepper
For the Slaw:
50g/2oz white radish, julienne
100g/3.5oz cucumber, julienne
100g/3.5oz carrots, julienne
50g/2oz scallions, julienne
For the Vinaigrette:
25ml/1fl oz light soy sauce (gluten free if required)
25ml/1fl oz sesame oil
25ml/1fl oz honey
10g/2 tsp gochujang (or chilli paste)
Directions
Combine all ingredients for the tofu marinade in a bowl. Whisk until fully combined.
Cut tofu into 1 inch thick slices and allow to marinate for no less than 2 hours.
While marinating prepare the slaw. Whisk all ingredients for the dressing. Toss in all chopped vegetables. Cover and refrigerate.
Cook the tofu over a grill pre-heated to 240C/465F and cut into approximately 1"x3" strips.
Toss chopped tofu with the prepared slaw.
Serve with lettuce leaves for wrapping.