Chicken in Wine and Cream Sauce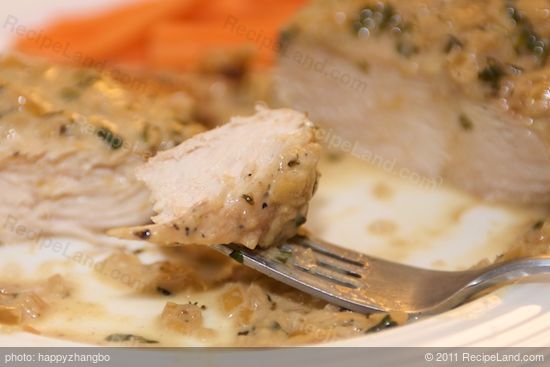 Loved it, classic french style, simply prepared with a flavor packed jus. One change I made was to brown the chicken breast in a non-stick pan (and then finish cooking by popping it into the oven) before making the sauce to build extra flavor.
Metric
Directions
Dust chicken lightly with flour and baste with 4 tablespoons melted butter.
Sprinkle with salt, white pepper, and garlic powder.
Place chicken in a 9 by 13 inch roasting pan and bake in a 325℉ (160℃) oven for about 15 to 20 minutes or until just cooked through.
Do not overcook.
Meanwhile, sauté shallots and garlic in butter until the shallots are soft, but not browned.
Add wine and broth and cook over medium-high heat until the liquids have reduced to about one-half.
Add the remaining ingredients and simmer sauce until slightly thickened, abot 3 minutes.
Place the warm chicken on a lovely platter and spoon the sauce over all.