Bisquick recipes
Bisquick is a biscuit baking mix developed by General Mills and was introduced to stores in 1931. "90 seconds from package to oven" read the original slogan.

It is quite easy to make your own easy homemade baking mix as a substitute for Bisquick.

Aside from biscuits there are numerous recipes that use Bisquick as a base such as the wildly popular Impossible Pie recipes along with numerous other quick and easy recipes.
433 recipes
Recipe NOT List™ - disabled What's a NOT list?
Showing 1 - 15 of 433 recipes
(1)

Delicious!!! My neighbors and I make this all the time!!!

Trans-fat Free, Low Carb
(12)

My whole family loves these! Mom always made them for "chicken n' dumplimgs". Mmmmm Good!!!

Low Fat, Low in Saturated Fat, Low Cholesterol, Trans-fat Free, Low Carb, Very low in sodium, Low Sodium
(1)

A cheesy cornbread with sun-dried tomatoes bits throughout.

Trans-fat Free
(1)

An easy and tasty quiche. Leeks and swiss cheese together make this delicious quiche. It can be served as a side dish or a vegetarian main dish.

Trans-fat Free, Low Carb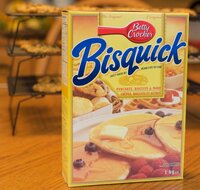 The original Bisquick Dumpling recipes and directions from the box.
added over 4 years ago
Low Fat, Low in Saturated Fat, Low Cholesterol, Trans-fat Free, Low Carb, Very low in sodium, Low Sodium
(1)

A very moist and yummy pancake. Didn't have chunky applesauce, so I used smooth applesauce and one chopped apple, which was delicious. I dusted the top with a bit icing sugar, drizzled some maple syrup over each slice, and it was delicious.

Trans-fat Free, Good source of fiber, Low Sodium
(2)

One of my variations of the Bisquick "Impossible Pie" type recipe. Quick and easy...great for breakfast, brunch or a light lunch.

added almost 4 years ago

Low Cholesterol, Trans-fat Free, Low Carb
(2)

Make a quick dinner with this scrumptious quiche made with cheese, broccoli and mushrooms.

Trans-fat Free, Low Carb
(1)

This delicious and easy chicken-broccoli pie is a great way to incorporate some veggies into the meal. Kids won't say a word about the additional broccoli, because it tastes so yummy.

Trans-fat Free, Low Carb
(1)

An easy, tasty bacon and egg quiche is a perfect breakfast to start you day, or an ideal dinner on a busy week day.

Trans-fat Free, Low Carb
(1)

Add a new kick to your chicken wings with this delicious recipe that uses a variety of spices to create a wonderful taste.

Trans-fat Free, High Fiber
(1)

So quick and easy. Not really Danish pastry, but good in a pinch.

Low Fat, Fat-Free, Low in Saturated Fat, Low Cholesterol, Cholesterol-Free, Trans-fat Free, Low Carb, Low Sodium
(1)

Quick, easy and tasty pancakes are perfect for breakfast.

Trans-fat Free, Low Sodium
(1)

Made this impossible garden vegetable pie for lunch today , and it was cheesy and delicious. I browned the onions first for about 5 minutes, put the broccoli and bell peppers into the pan, and cooked for another 2 minutes to develop more flavors. Then followed the recipe, and it came out golden-brown on the top, very moist and tasty. Served it with a bit hot sauce, some fresh tomato and cilantro. A well balanced meal.

Trans-fat Free, Low Carb
(1)

This scrumptious pie is made with bisquik and a taco seasoning mix which gives it a true Mexican taste.

Trans-fat Free, Low Carb
Showing 1 - 15 of 433 recipes
---
Latest searches

Recipes others are viewing right now

updated every 60 seconds